🔴 About
🕉️ Music Composer & Producer
☸️ Multi-Genre Multi-Instrumentalist
✝️ Mixing & Mastering Engineer / Business Owner
☯️ Experimental Videographer / Graphic Designer / Collage Artist
☮️ Former DIY Record Label "CEO"
☪️ Unitarianism / Universalism / Non-duality / Perennialism / Interfaith: Christian Mysticism, A Course In Miracles, Vedanta / Upanishads / Bhagavad Gita, Buddhism, Law Of One
⚛️ Feline & Coffee Enthusiast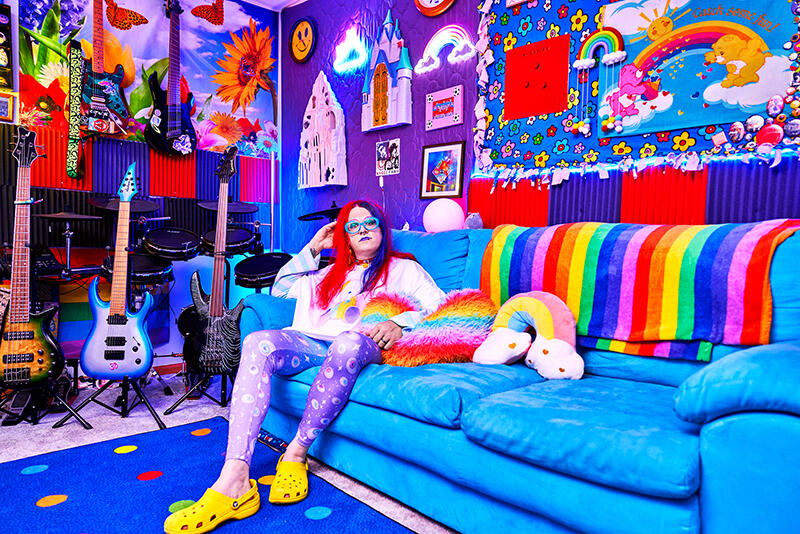 ---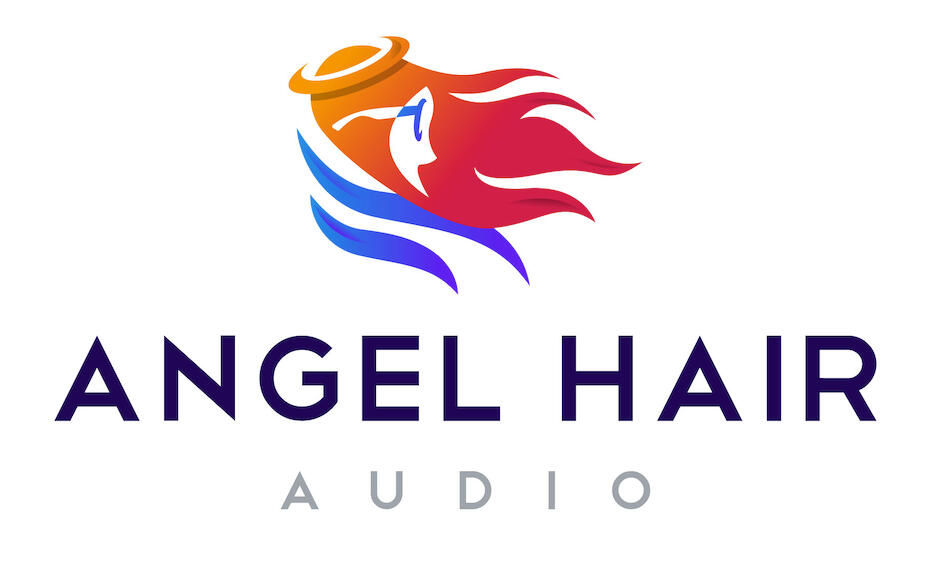 Angel Hair Audio, LLC
Mastering, Mixing, & Music Production Solutions
Specializing in the experimental, progressive, & forward-thinking corners of original music. Over 500 completed projects. 100% positive reviews. I rescue suffering mixes!Check out my website for audio examples, reviews, or to request a quote.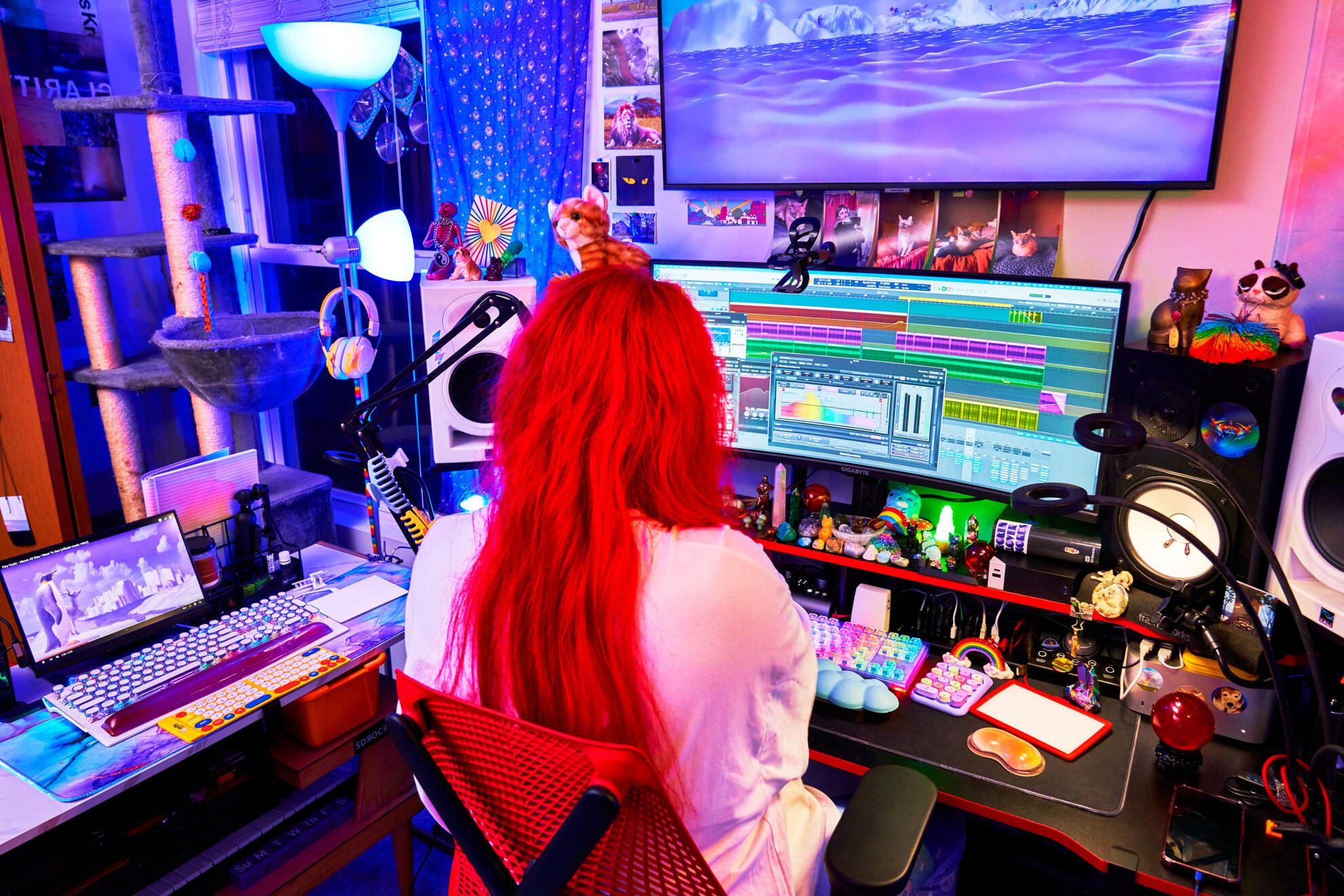 ---
🔴 Projects & Endeavors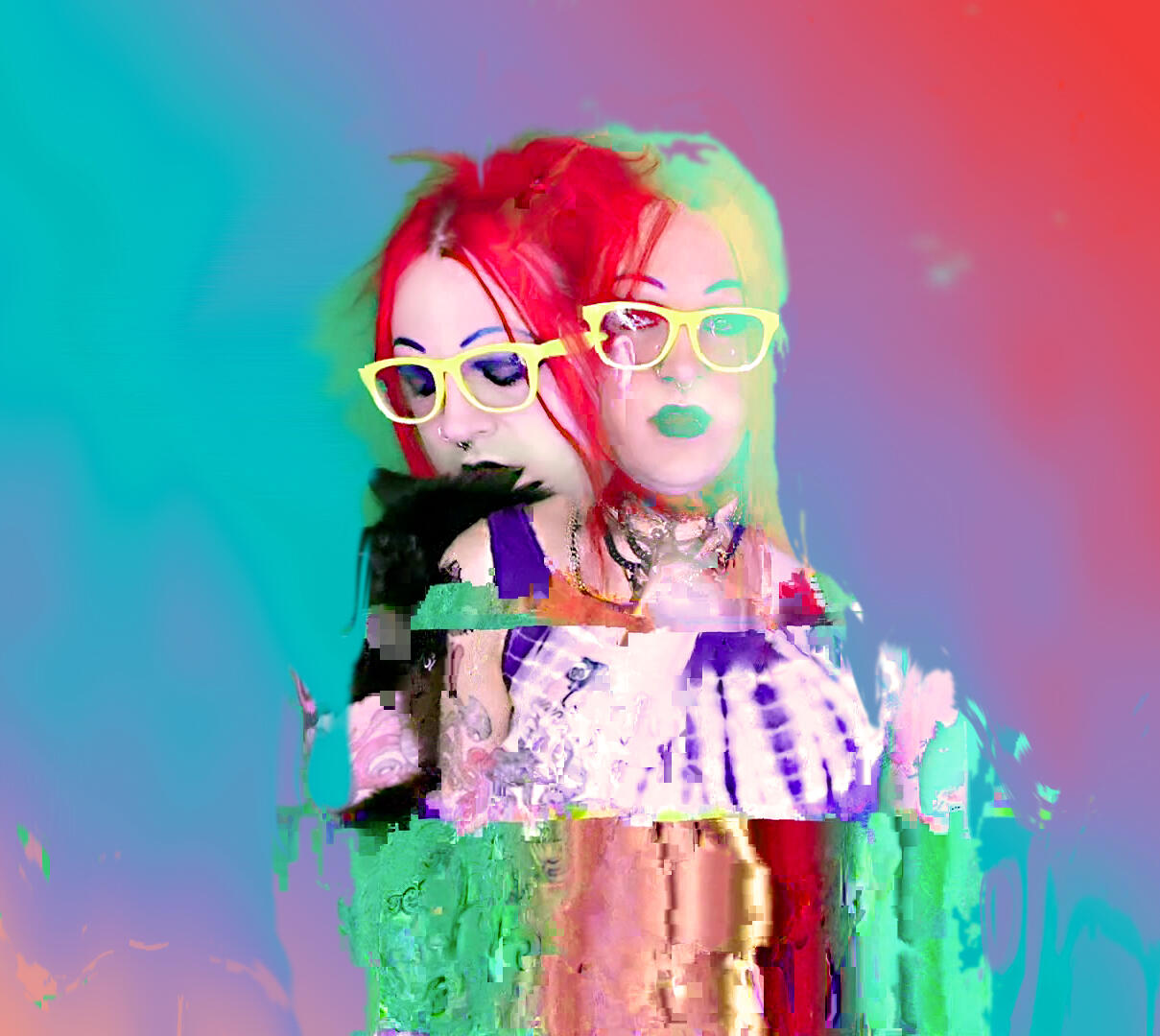 ---
🔴 Social Links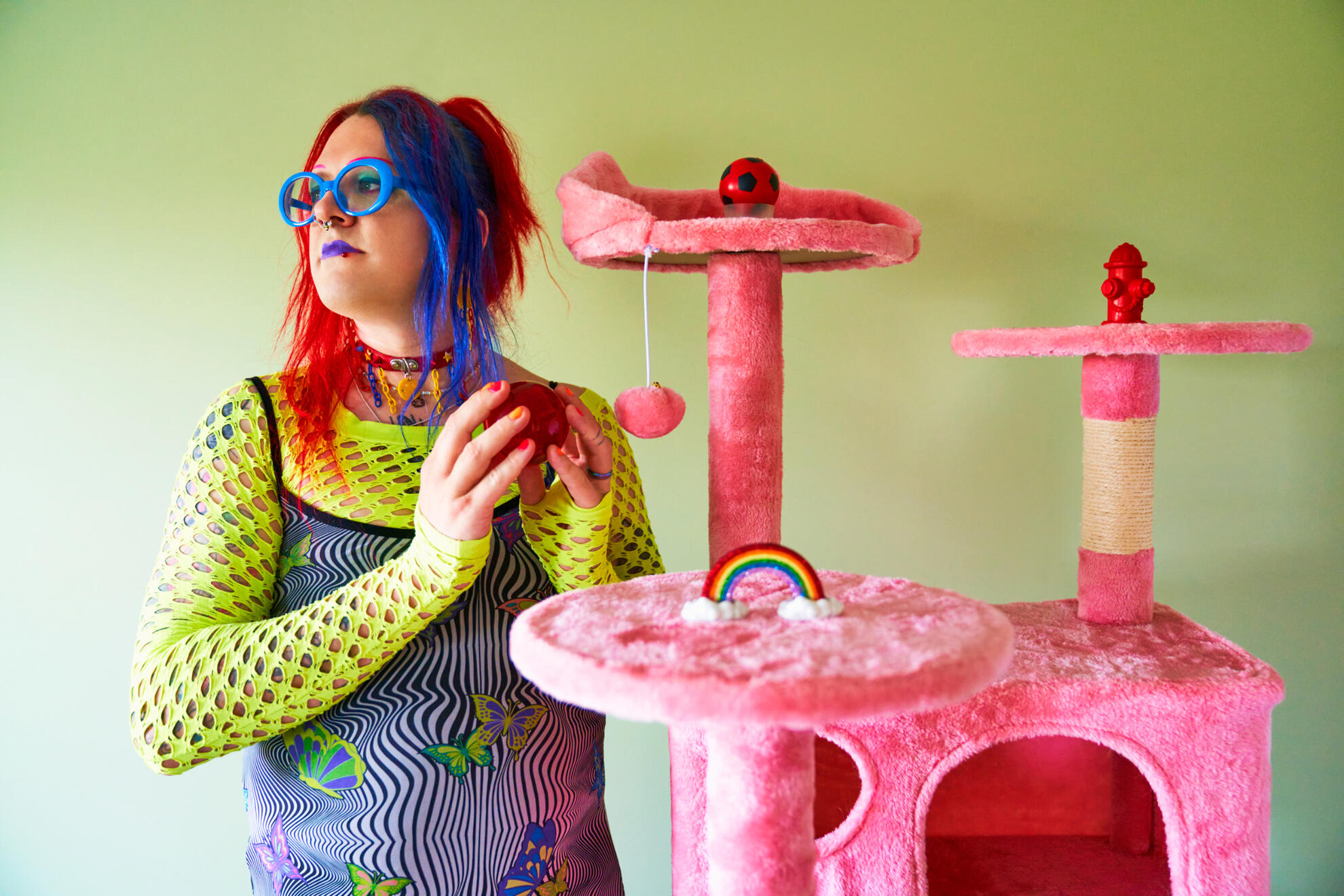 ---
🔴 Bio
[Updated 10/09/2021]Angel Marcloid was born in 1984 at a hospital in Prince Frederick, MD, 9 months after her Mom & Dad banged in a hotel room somewhere. She currently resides in a quiet town in the boonies outside of Chicago, IL.Angel changed her name from her former/birth name, Justin, in 2015. 'Marcloid' isn't Angel's real last name. It is a "stage name" or "public name" of sorts, spawned from a joke her friend Derek made in the early 2010s. (Her chosen middle name is currently up for debate, but she is learning toward Faye.)She received an acoustic guitar when she was 3, but spent most of her single digits playing drums. At only 8 years old she was playing Rush, Candlebox, Rage Against The Machine & Dream Theater covers in a "band" with 12-year-old guitarist Andrew Synowiec, now a Los Angeles session musician (The Who, Pink, 98 Degrees, Mark Anthony).At 12 she got a bass, at 13 an electric guitar, & by her pre-teens & into her late 20s, she was playing in & writing for for a number of hard-working DIY emo, post-rock, prog, metal, noise, & punk-oriented bands. Some of the later, better, less embarrassing ones being Age Sixteen, A Perfect Kiss, Batcomputer, Sawhorse (MD), New Years, Seabreezes, Shadow Gov't, & the regrettably-named anarcho-powerviolence band Surf Nazis On Ecstasy.In the mid 2000's, Angel ran a MySpace clothing brand/graphic design firm/screen printing company called Black Sea, in which she outsourced printing work to a friend's merchandising warehouse in Florida. Most of her graphic work was making gritty, trendy shirt designs for metalcore & pop punk bands.From around 2008 to the mid 2010's Angel ran multiple experimental music labels (Rainbow Bridge, Swamp Circle), & remained active in an even larger number of simultaneous musical solo projects (Power Windoze, Inappropriate King Live, The Human Excuse, Pregnant Spore, Path To Lobster Believers, Dementia & Hope Trails, World Of White Ice, etc.) Around this time she was also a very active graphic artist, producing album & apparel designs for clients.As of the late 2010's, Angel's dominant creative endeavor has been composing/producing music (and making music videos for) her solo project Fire-Toolz, in which she explores & experiments with the sounds of industrial, jazz fusion, prog, noise, new age, ambient, avant-garde sound design & collage, house, early waves of emo, IDM, & more. Song structure, time signature, musical key, timbral themes, are all subject to jaggedly shift at any moment in such a way that is jarring to some, stimulating to others, & abstractly authentically reflective of who Angel is.Fire-Toolz's visual & lyrical themes are often deeply personal, spiritual, esoteric, mystical, psychedelic, abstract, & philosophical. They are rife with symbolism, synesthesic exploration, adoration of & connection to nature, & a constantly bubbling river of saccharine emotion. The matter-of-fact & the visceral are mixed to make new colors, & they communicate both electrifying joy & stinging pain, expressed in an embellished yet honest way, in vehicles of both chaos & calm.Fire-Toolz has taken on an extreme amount of meaning & significance for Angel over the years. It is her flagship project, & it is an excellent documentation of her as a person. Each album is like a log file of her evolution.Additionally, Angel produces original music as Nonlocal Forecast & Angelwings Marmalade. She also produces sample-based music as MindSpring Memories, Toad Computers, & Apk ♀ ᴎᴇᴛ ☯ Ltd℻.She makes her living as Angel Hair Audio, doing mixing, mastering, music production, & audio/video post-production work in her home studio for clients. Typically she is booked 2-4 weeks out at any time.Angel spends most of her free time walking & exploring, meditating & praying, enjoying nature & animals, bonding with her cats/best friends, binge-watching academic YouTube channels on religion & spirituality, monitoring live streams of cat rescue nurseries, shoddily soaking up jazz music theory, Photoshopping together gaudy digital collages, digitally glitching commercial stock animations, dreaming of ordering takeout, actually ordering takeout, consuming overpriced lattes, or breaking the law (depending on which state she's in).She also spends a lot of time self-educating & practicing in the realms of the Law Of One, contemplative mystical Christianity & Franciscanism, A Course In Miracles, Advaita Vedanta, Taoism, Sufism, various forms of Buddhism, & other traditions.On paper/on Earth, you could say that Angel is transgender. She is not a trans woman. The term 'non-binary' works, but ultimately she doesn't prefer to label herself with any checkbox or qualifier. She finds herself "feeling feminine" on most days, without any particular gendered words to justify or explain it. At the same time, her masculine energy & traits are undeniable. They swirl within & without her feminine nature.Angel is, on the level of form, a person, an animal, a sentient conglomeration of cells. But on a deeper and more real level, she is... happening, just as every other person & thing in this universe is happening. She is just as much everything & nothing as anything else is. Her lack of claiming a gender identity, & the world's resistance to accommodating this freedom to do so, are aspects of her worldly experience. However, they do not define her essence, which is prior to the world & modern culture, as everyone else's is.If words must be used to come up with some kind of identifying markls, they may as well be metaphor or poetry, as medical terms only refer to the body, & psychological terms only refer to the mind.We are all a single Ocean ultimately, & sometimes that Ocean-Self manifests as individualized waves. Angel is one of these waves that briefly rise from the Ocean, only to merge back into it soon after. On this plane, Angel is just the Big Bang, still in motion.Although 'she/her' pronouns were used in this biography, 'they/them' pronouns are accepted. To Angel, no pronouns feel ultimately correct, but refusing to use them makes speaking more difficult, so why not.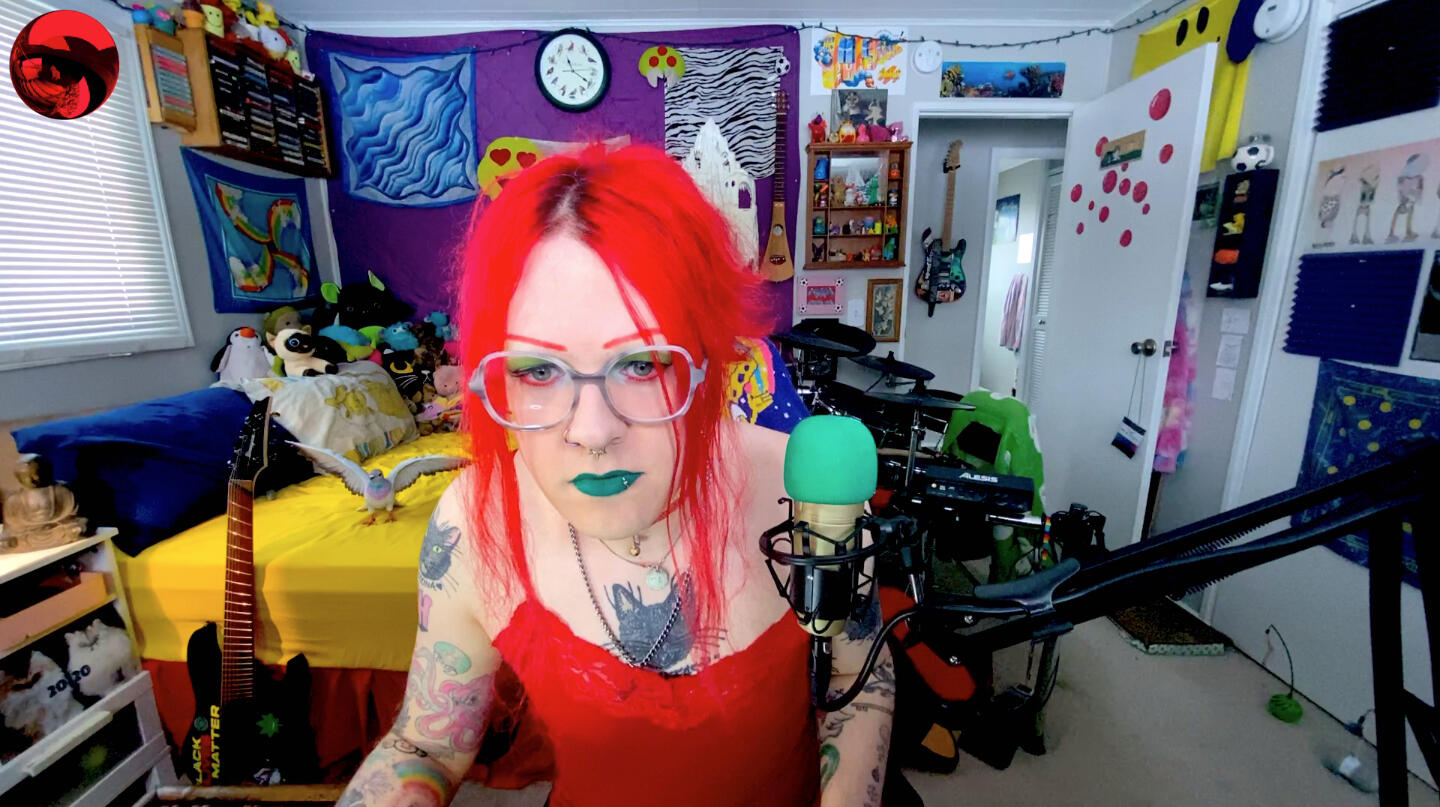 ---
🔴 Contact
---